11 Influencer Marketing Trends and Tips for Success in 2021
According to a Business Insider report, by 2022, the influencer marketing industry will be worth over $15 billion. The report indicates that 63% of marketers plan to increase their influencer marketing budget in 2021.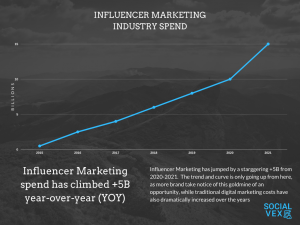 Brandon Palmer of Social Studies Inc. predicts that 2021 might be the year when influencer marketing becomes 'its own media channel' rather than being seen as 'nice to have content.'
In 2020, people spent more time on social media because of the coronavirus pandemic. The average time spent on social media in 2020 was 3 hours. In 2021, it is predicted that 3 billion people will access social media sites.
49% of social media users depend on influencer recommendations. In 2020, 96% of British and American consumers who were following influencers, engaged with them to the same extent or more than before the pandemic.
In 2021, influencers will become increasingly vital in connecting brands with consumers on social media. The role of influencers is set to grow in 2021 as social media takes more functional uses like shopping and e-commerce and social media converge.
1. Instagram Will Dominate Influencer Marketing in 2021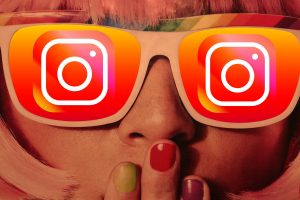 In 2021, Instagram will still be the platform of choice for influencer marketing. These statistics make Instagram favorable for influencer marketing:
2. In 2021, TikTok Will Be Considered a Mainstream Influencer Marketing Platform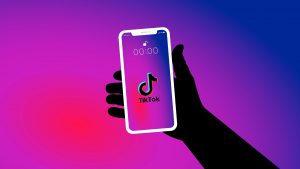 Instagram will continue being a dominant force in influencer marketing. However, TikTok is gaining ground. A survey shows that over 30% of digital marketers considered TikTok as their platform of choice for influencer marketing.
Brands can use TikTok influencers to create authentic and casual connections. TikTok can help to add human interest to your content strategy.
3. Nano Influencers Will Become Increasingly Important in 2021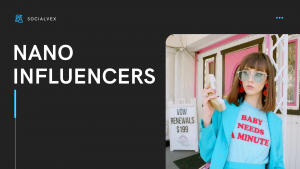 2020 saw the rise of micro and nano influencers. In 2021, brands will continue looking for influencers with a smaller number of followers. Nano influencers with high engagement rates are the future of influencer marketing.
Nano influencers have between 1,000 and 10,000 followers. Nano influencers tend to have very high engagement rates because most of their followers tend to be people that they are connected to personally; family members, friends, and friends of friends.
A 2019 report indicates that influencers with less than 25,000 followers have the best engagement rates irrespective of target audience and niche.
Because they don't have a very big fan base, nano influencers are better at responding to fan posts. This creates a feedback loop that boosts engagement.
Nano influencers are cost-effective to work with. Only big brands can afford macro-influencers such as Kylie Jenner.
The key to influencer marketing success is finding influencers with high engagement rates. There are platforms out there like SocialVex that help brands to find nano influencers with the best engagement and competitive rates.
4. Influencer Types Will Proliferate in 2021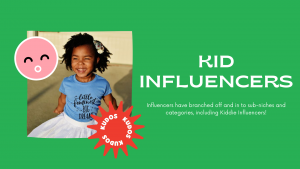 2021 will see the proliferation of different influencer types.  Expect to see influencers filling every conceivable niche and sub-niche. Each influencer type will offer unique benefits and trade-offs.
In addition to celebrity influencers with a massive following, other key influencer types will include:
Kid influencers
Gaming influencers
Virtual influencers
Micro and Nano influencers
5. Authenticity Will Be a Big Issue in 2021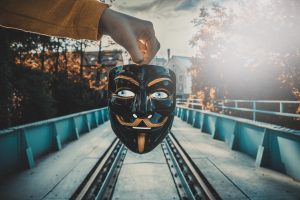 Brands will focus on influencers with authentic, filter-free content in 2021. Brands will also be concerned with fake influencers. According to data, on average, 17% of an influencer's audience are suspicious accounts and bots.
Technology has made it possible to protect brands from potentially fraudulent or mismatched influencer partnerships. SocialVex uses machine learning and AI to glean in-depth insights about influencers with the goal of identifying fraudulent activity.
6. Instagram Carousel Posts Will Continue Trending on Instagram in 2021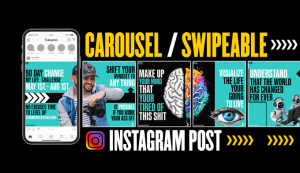 In 2020, nearly one in five Instagram posts was published as a carousel post. A study of over 20 million Instagram posts shows that Instagram carousels are the most engaging post type on Instagram.
According to the study, telling people to swipe left on a carousel can increase engagement.
Instagram carousels allow up to 10 videos or photos. Therefore, you should find the right balance of media.
To generate the highest engagement per post, you should have a combination of video and images.
Only 4% of carousels contain only videos and 88% of carousels contain only images.
Mixed content carousels will increase engagement on Instagram.
7.Animated Instagram Stories Will Take over Our Feeds in 2021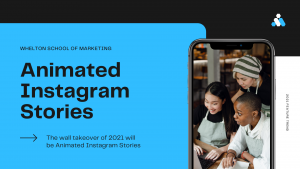 Animated Instagram stories are engaging, dynamic, and scroll-stopping. They will grab the attention of your audience and stop them from swiping past your story.
You don't need an expensive camera to create an animated story. Several apps will make it super easy to add animations to Instagram stories
8. Instagram AR Filters Will Be a Hot Trend in 2021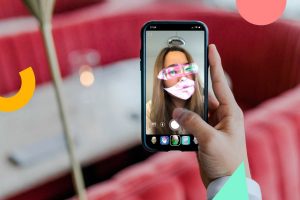 Instagram Stories augmented reality (AR) filters offer a fun and interactive way to build brand awareness and reach new users.
Since they went public in 2018, they have been used by over 1 billion people.
9. Shoppable Posts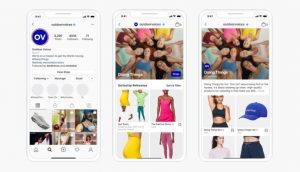 70% of shoppers use Instagram for product research. Every month, over 130 million users tap on shopping posts on Instagram.
More brands are sharing shoppable posts on Instagram. This trend will grow in 2021 as Instagram adds new contextualized shopping features. Instagram is working to facilitate a streamlined shopping experience on its app with the introduction of Instagram checkout and curated shoppable feeds.
10. In 2021, Brands Will Invest in Ongoing Partnerships with Influencers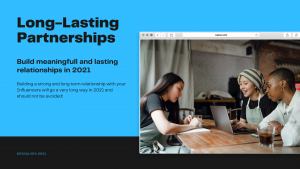 In 2021 going forward, brands will strive for deeper, long-term relationships with influencers.
For most brands, one-off influencer posts aren't enough to bring the desired results. Building commitment and trust will be the key. This will drive better results.
11. Focus Will Shift to the Collective Good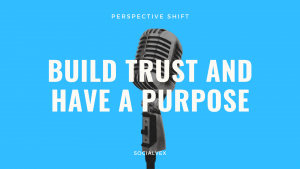 The coronavirus pandemic has made influencers and brands to shift their perspective from sales-driven, superficial content towards more purposeful content. There is mounting pressure for influencers and brands to stand for something and be more vocal about community causes.
In 2021, when many people are experiencing financial setbacks and job losses, it will make sense for brands to create stronger relationships and build trust by genuinely promoting causes not to gain sales but to make an impact in society.
The Bottom-Line
There is evidence that influencer marketing is effective for marketing and branding. A survey shows that for every $1 spent on influencer marketing, the average earned media value is $7.65. Instagram Stories has more users than Snapchat.
It makes sense for brands to work with Instagram influencers. However, finding suitable and targeted influencers with in your given niche is a challenge. It is time-consuming to nurture relationships.
Our influencer marketing platform at SocialVex can help automate all of your tasks, with in our suite of tools.  Our tool-sets can help with the following:
Influencer Discovery
Influencer Analytics
E-Mail Building/Export
Influencer Messenger Service
Multi-Platform Support (Instagram/TikTok/YouTube)
Sign up for a Free Trial today and browse our Influencer Database (limited on free trial).