How Much do Influencers Make?Let's face it – the glamor and the near-to-perfection lifestyle of celebrities inspire us all.  We believe an influencer is an icon of beauty, a role model and idol. Interestingly, this trend is pretty common since the rise of social media and particularly with the rise of Facebook and Instagram.  The perfectly crafted posts include the flawless world of beauty, freedom business, and the perfectly imperfectly lifestyle that is enchanting. Only those who are behind the scenes know that that world is mysteriously free of reality – and it's a no brainer. So how do these influencers manage to pay for such a glamorous life? Let alone the time taken into creating that perfect look. I assume that's a high paying gig.
Over history, influencers have always been a mainstay in marketing. According to WebFX, 70% of teenagers trust influencers over celebrities. It is safe to say that influencer marketing is getting bigger every year. Today 72% of major brands are investing a sizable budget on influencers.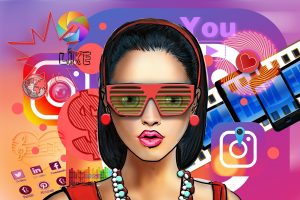 Based on the number of followers influencers are categorized into three groups:
First, the nano influencers with 500-5K followers
Micro-influencers with 5-30K followers
Power influencers 30-500K followers
Celebrity influencers with 500K+ followers
The USA is a highly saturated market in influential marketing which has badly affected its pricing.  Plus, male influencers make a lot more than female influencers.
Research shows that influencer marketing costs ranges from $1000 to $1 million per post in 2020. Male influencers make $100 more than female influencers in almost all the industries except for travel. In the travel industry, male influencers make $570, whereas female influencers make $615 per post.
I am pretty sure you must be curious about how much money influencers make per post.  Or maybe want to know more about monetizing your feed? Go grab a cup of coffee, because I'm about to spill all the details about YouTube, Instagram, Twitter, and Facebook influencers.
Youtube
When it comes to influencer marketing, Youtube is the most expensive social media platform. A nano influencer charges $315 per video, whereas a celebrity influencer makes it to $3837. Celebrity influencers charge two times more for the longer videos than the short ones i.e., $1234 vs. $656.
Below are some potential prices for influencer marketing on YouTube:
A YouTuber influencer with 10,000 subscribers makes $200 per video
A YouTuber influencer with 100,000 subscribers makes $2000 per video
A YouTuber influencer with 1,000,000 subscribers makes $20,000 per video
Facebook
Facebook gives companies and influencers unprecedented access to the end-consumers with its more than one billion daily active users. Below are potential influencer marketing prices on Facebook:
A Facebook influencer with 10,000 followers makes $250 per post
A Facebook influencer with 100,000 followers makes $2500 per post
A Facebook influencer with 1,000,000 followers makes $25,000 per post
Instagram
Instagram is a go-to influencer hub that has more than 1 billion users. Video posts are the most expensive for so many obvious reasons. Plus, Instagram stories are the most affordable medium for brands. It is a cost-effective influencer marketing tool and maintains an average of $10 a post per 1000 followers.
An influencer with 10,000 followers makes $100 per post
An influencer with 100,000 followers makes $1000 per post
An influencer with 1,000,000 followers makes $10,000 per post
Twitter
Below is a potential influencer marketer's income for Twitter:
An influencer with 10,000 followers makes $20 per post
An influencer with 100,000 followers makes $200 per post
An influencer with 1,000,000 followers makes $2000 per post

TikTok
It has been reported that the top TikToker Influencers can earn in between $50k–150k for a successful brand partnership deal.  TikTok is a still fairly new platform in the Influencer World, where not many statistics or prices have been provided or published, therefore the cost to collaborate and promote via a TikTok Influencer may vary by a wide spread.
The above figures are rough statistics because most influencers do not publicly share their rates. If a company prefers a performance-driven approach, it can partner with the influencer can set their prices according to engagement. Unlike all other influencer marketing campaigns, this strategy is smart because you are paying for the end-results.
Have you already set aside a budget to invest in influential marketing in 2020?