IGTV is a mobile-first platform. It was built for how you use your phone: vertical and full screen. We all watch short videos vertically on our phones. It is when you want to watch videos on YouTube or Netflix that you flip your screen horizontally. It is with that thought in mind that IGTV was launched in 2018 as a medium for only long-form vertical videos. Landscape videos were not allowed.
Starting May 2019, IGTV retreated from vertical only policy. IGTV started supporting both vertical and landscape videos as a result of feedback from viewers and creators. For a very long, creators had desired to upload landscape videos on IGTV. Instagram finally granted their wish. This is a great milestone for IGTV.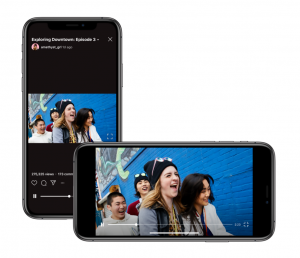 In February 2019, IGTV made another milestone by enabling creators to publish IGTV video previews to their Instagram feed. This made it easier for viewers to discover IGTV videos. Since this development, viewers have been spending more time on IGTV.
With landscape videos, Instagram finds another great way of engaging audiences. It should be remembered that Instagram is the social network with the most engaged viewers. Instagram engagement rates range from 2-7% while Facebook's engagement rates are lower than 2%. Twitter has the lowest engagement rate of all social networks. Since IGTV started supporting landscape videos in May 2019, engaging an audience on Instagram has become easier.
There is no better time than now to integrate portrait and landscape style video creation with IGTV.