Instagram has made one giant leap and step forward to compete with rivalry TikTok and steal a bit of market share from the Chinese owned company.  "Reels invites you to create fun videos to share with your friends or anyone on Instagram. Record and edit 15-second multi-clip videos with audio, effects, and new creative tools. You can share reels with your followers on Feed, and, if you have a public account, make them available to the wider Instagram community through a new space in Explore. Reels in Explore offers anyone the chance to become a creator on Instagram and reach new audiences on a global stage" – Instagram Blog.
What does this mean for Digital and Influencer Marketers?
Do you offer a service or product which is advertised by Influencers? This is now your change to get creative and request videos made from Reels.  It will gain much more attention than a typical image or product video and could very well increase your ROI with Influencer Marketing on the Instagram Platform.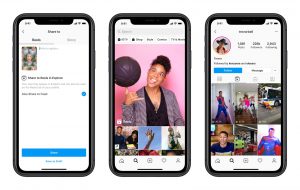 We highly recommend testing a few creatives with reels and you may very well be surprised with the outcome.
For more details on how Instagram Reels works, visit the official link here – https://about.instagram.com/blog/announcements/introducing-instagram-reels-announcement/