Instagram Checkout was launched in March 2019. It is currently in beta testing. Brands can now boost their sales using this enhanced shopping solution. Instagram users can quickly, conveniently, securely, and easily purchase products without having to leave Instagram using Instagram checkout.
Product Tags
Product tags usually appear on Explore content, Instagram Stories, and feed posts, similar to this example: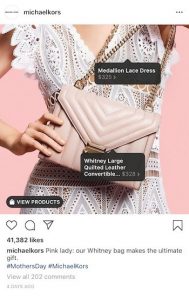 You Click the Product Tag
You can tap any product tag to open a product page such as the one below.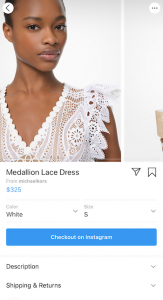 View the Product
Once on the product page, you will view the product image, description, size, shipping policy, colors available, and sizes available. You will select from the different size and color options and finally click the "Checkout on Instagram" button after which you will pay directly on Instagram.
During the first checkout, you will enter your name, billing information, shipping address, and email address before you complete your purchase. This is securely stored on Instagram for convenient future shopping.
Conclusion
If you're not taking advantage of these great updates by Instagram, you could be leaving a lot of cash and potential sales on the table. Best of all, it costs nothing, and takes little time to set up!